What's the outlook for the Australian property markets for
2021-04-01
What's the outlook for the Australian property markets for 2021 and beyond?
This is a common question people are asking now that our real estate markets are up and running again.
A new report released from ANZ Bank predicts house prices at the national level will rise to a strong 17% through 2021, before slowing to 6% in 2022.
They see
Sydney house prices increasing by up to 19% by the end of the year
Melbourne house prices rising by over 16% over the year
Brisbane house prices rising by 16% this year
Adelaide house prices rising by over 13% over the year
Perth house prices rising a whopping 19% in 2021
Canberra house prices rising by over 16% in 2021, and
Darwin house prices rising by over 16% this year.
What a turn around from all the pessimistic forecasts all the banks made in the middle of last year
ANZ senior economist Felicity Emmett expect the Australian Prudential Regulation Authority (APRA) would then introduce macroprudential measures to slow house price growth into 2022.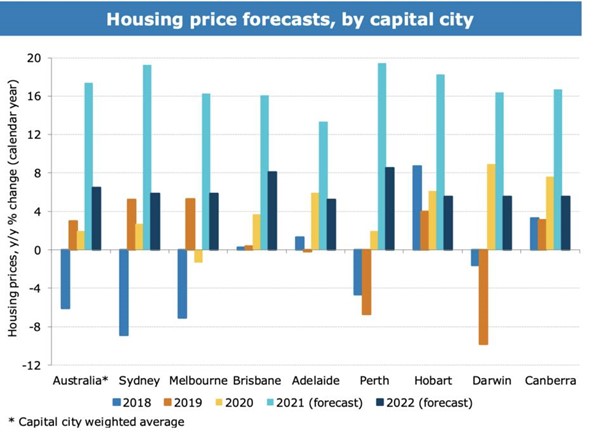 Clearly, we have worked out way through many of the effects of the Coronavirus Pandemic and out of Australia's first recession in 30 years.
The media is now full of property-related headlines, some on the positive side telling us how our property markets are surging and others on the negative side warning that decreasing affordability will limit our ability to get into the property market.
Historically low-interest rates and FOMO (fear of missing out) have driven dwelling prices to record new highs – but we've only recently surpassed previous 2017 peaks and this means double-digit growth is on the horizon for many areas around Australia in 2021.
The year has started on a very strong note, with increased buyer activity at a time of lower availability of stock of quality properties in popular areas and this is reflected in rising property values and boom time auction clearance rate levels.
But, there is not one "Australian property market" and even within each state, there are multiple markets, divided by geography, type of property, price point, etc so in this detailed article I'll explain what our research suggests is ahead for Australian house prices.
The following chart from NAB shows that all property markets, other than Melbourne, are higher than they were a year ago, and Melbourne has made up most of its lost ground and is likely to reach new heights again shortly.
Christina TRUONG (as cited in Yardney, 2021)*
*Yardney, Michael (2021). What's the outlook for the Australian property markets for 2021 and beyond? Michael Yardney's Property Update, Brighton, 29 March. Available at: https://propertyupdate.com.au/property-predictions-for-2022-revealed/#3 (Accessed: 1 April 2021)